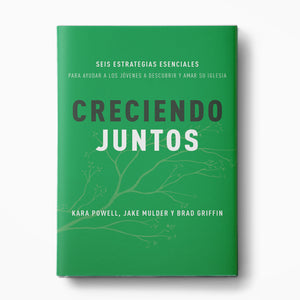 Creciendo Juntos
Regular price $14.95 Sale
Las estadísticas nos dicen que la mayoría de jóvenes dejan la iglesia después de la edad de 18 años. Como no estábamos conformes con esa realidad, emprendimos una jornada de investigación que nos llevó 4 años para identificar las iglesias que están rejuveneciendo al ministrar a jóvenes entre los 19-30 años. Basado en una investigación con más de 250 de las principales congregaciones de la nación, Creciendo Juntos ofrece una estrategia que cualquier iglesia puede utilizar para involucrar y retener a los jóvenes.
Creciendo Juntos ofrece ideas prácticas y estratégicas para alcanzar a las nuevas generaciones de una manera que traiga vida a toda la iglesia.

---
Churches are both shrinking and aging as more young people disengage. Based on groundbreaking research with over 250 of the nation's leading congregations, Growing Young provides a strategy any church can use to involve and retain young people. It profiles innovative churches engaging 15- to 29-year-olds that are growing–spiritually, emotionally, missionally, and numerically.
Packed with ideas, Growing Young shows ministry leaders how to position their churches to reach younger generations in a way that breathes life into the whole church.