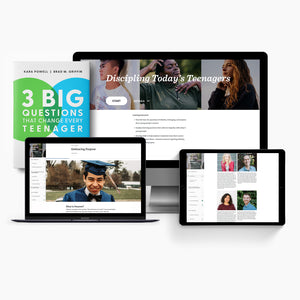 Discipling Today's Teenagers
Regular price $25.00 Sale
This is a digital course.
Youth leaders often wonder:
Can I connect every teenager in my ministry with a caring mentor? 

What would help my volunteers feel more confident in their connections with young people?

How can my team have better conversations and disciple more effectively when I can't get us all in the same room at the same time?
Based on extensive research from 3 Big Questions That Change Every Teenager, this self-paced online training course walks youth ministry leaders and mentors through tips, skills, and practices so that you can empathetically help students find Jesus-centered answers to their questions of identity, belonging, and purpose. Join Kara Powell, Brad Griffin, Roslyn Hernández, and Zach Ellis as they journey alongside you in your call to serve today's young people. 
Discipling Today's Teenagers is a companion to the book, 3 Big Questions That Change Every Teenager. To best engage this digital training course, each participant will need their own book copy. Order books in the FYI store and take advantage of our bulk purchase discount!
We recommend you purchase one digital course for each member of your team. Upon purchase, you'll receive instructions to invite your team to begin.

Preview the course
What can I expect from this guided lesson?

This course is hosted by the Fuller Leadership Platform. FULLER Equip digital courses include videos, writings, articles, questions and exercises so that you can immediately apply what you learn to your everyday life. We estimate that this will take you 9.5 hours to complete.