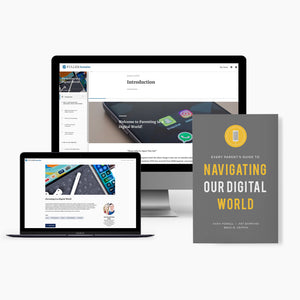 Parenting in a Digital World
Regular price $20.00 Sale
This is a digital course. 


"Why do my kids constantly check their phones?" 
"If mom's on her phone, I can be on mine." 
"Our son made a totally asinine decision…" 
Parenting in a digital world can feel like parenting on a battlefield. The threats seem to be coming from all directions, and we don't know the best ways to protect our families. In this course, Kara Powell and Brad Griffin give parents a clear view of the digital landscape and help them start conversations with their kids about healthy media usage.
The material includes videos, conversation starters, and downloadable resources to help you guide your family with confidence.


What can I expect from this course?


This course is hosted by the Fuller Leadership Platform. FULLER Formation lessons include videos, writings, articles, questions and exercises so that you can immediately apply what you learn to your everyday life. We estimate that this will take you 6 hours to complete (but not all in one sitting!).