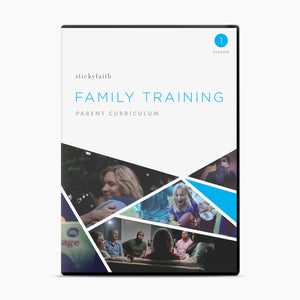 Sticky Faith Family Training (Digital Download)
Regular price $24.99 Sale
This is a digital download. Discussion Guide included. 
by the Fuller Youth Institute
Through a compelling blend of real-life stories and interviews with parents, this five-week video curriculum drops you into the latest national family research, and into the hearts of parents discussing their own struggles, successes, and ideas that have shaped lasting faith in their own families.
Season 1 includes five short films and discussion guide:
01 Why (6:19)  – Why talk about parenting? Because 1 in 2 kids drift from God after High School.
02 Mirror (17:43) – What happens when I see things in my kids I don't like?
03 Warm (17:29) – How can I create a safe place to connect with my kids?
04 Spark (13:26) – How do I create a flourishing connection with my kids?
05 Plan (7:30) – What do I do next?
Join Kara Powell and a host of parents like you in a fresh, honest look at parenting strategies. Discover new ideas that work and create a personalized plan for integrating those ideas into your own family routine.
Watch this five-session series on your own or with a small group or class with other parents. Discussion guide included. This is a digital download.